Written and illustrated by Jay Danniel Sweet.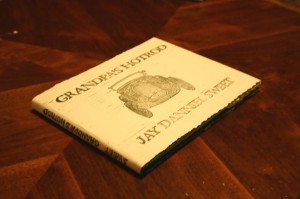 Grandpa's Hotrod is a children's book I wrote a few years ago.  It took me a long time to get the book produced, but I think the finished product is really nice.  I wanted the book to be something parents could read to their children and grandparents could read to their grandchildren many times.  I also wanted it to be enjoyable for a young reader to read themselves and learn through the illustrations.  50 pages, about 1/2 text and 1/2 illustrations.
The book is printed in Wichita Kansas and sewn bound in Denver Colorado USA.  I am very lucky to have such high quality companies so close in proximity that together produce a top-notch heirloom quality book that will last for a lifetime.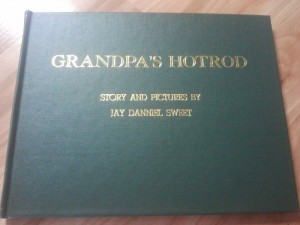 The jacket was designed and printed in America by noted artist and celebrity Mark "general gow" Phelan.  Hand carved and printed in his secret studio on top quality paper.
Just click on "Order Page" on the black header above.  I will ship out your book the next day via USPS priority mail, so you will get it in 2-3 business days.
$35.00 plus $8.00 shipping/fees/tax.
(Please email me for a shipping quote if ordering more than one book at a time, or for overseas orders.)
Also- if you would like me to sign or personalize your copy, please let me know in the comments section on the paypal payment "message to seller" section.
Thank you,
Jay